Blocking of MalaysiaNow website in Malaysia
How blocking is done in Malaysia and how they can be tracked using technical evidence available as open data on the OONI platform.
Recently there had been highlights of blocking of websites such as MalaysiaNow and Malaysia-Today. In the iMAP State of Internet Censorship Country Report 2022 - Malaysia, more than 70 websites from various categories of Political Criticism, News and Media, Human Rights Issues, Pornography, Gambling and others were found blocked in Malaysia based on OONI data in the first half of 2022.
Blocking of websites in Malaysia are ordered by the Malaysian Communications and Multimedia (MCMC) to the internet service providers (ISPs) who will then configure redirection of the DNS to MCMC's ip address: 175.139.142.25. In layman terms, DNS is like the phone book of the internet where each URL or link matches with the ip address of the website. When DNS tampering is done, the 'phone book' is tampered so that the URL does not reach the website's ip address, and in this case reaches an inaccessible ip address instead. 
Learn more about how websites are blocked and how to circumvent them from EFF's Guide to Understanding and Circumventing Network Censorship (External Link) https://ssd.eff.org/module/understanding-and-circumventing-network-censorship. 
In the past MCMC would show block notices.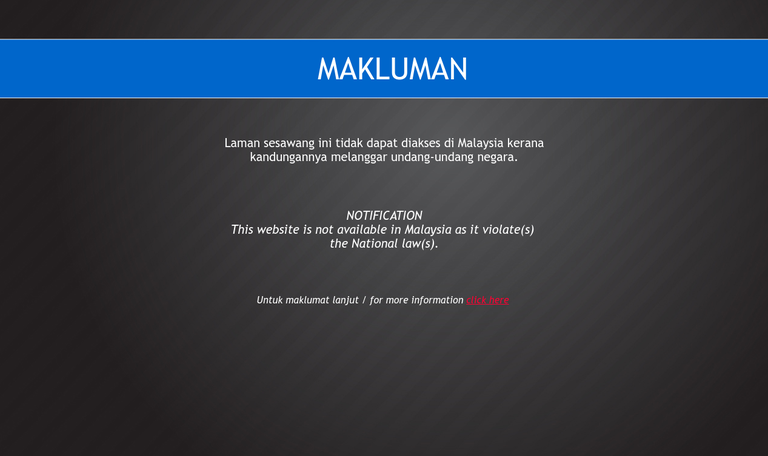 In recent years, these block notices are no longer shown, and possible blocking is suspected, when many Malaysia-based users are unable to access a popular website. A potential blocking of a website may be more obvious, when the website can only be accessed when on certain networks, as the blocking done by the ISP is not uniform and inconsistent even by the address used. 
For example, when MalaysiaNow was found blocked on 28-30 June, 'www.malaysianow.com' was only known blocked by 4 ISPs: Celcom (AS10030), TM (AS4788), Digi (AS4818) and Maxis (AS9534) based on data on Open Observatory Network Interference (OONI) but was accessible on TIME (AS9930), U Mobile (AS38466) and YTL (AS45960). But 'malaysianow.com' was found blocked on TIME (AS9930) and U Mobile (AS38466) instead. On the other hand, it seems that AS45410 (ALLO TECHNOLOGY) and YTL (AS45960) did not block this website during the 3-day period. 
Domain

ISPs blocking

ISPs not blocking

www.malaysianow.com

Celcom (AS10030)

TM (AS4788)

Digi (AS4818)

Maxis (AS9534)

TIME (AS9930)

U Mobile (AS38466) 

YTL (AS45960)

malaysianow.com

Celcom (AS10030)

TM (AS4788)

Digi (AS4818)

Maxis (AS9534)

TIME (AS9930)

U Mobile (AS38466) 
Summary of blocking of MalaysiaNow portal
As reference to the charts, the table shows the AS numbers with the respective ISP names:
| | |
| --- | --- |
| ASN | ISP name |
| AS10030 | Celcom Axiata Berhad |
| AS38466 | U Mobile Sdn Bhd |
| AS45410 | ALLO TECHNOLOGY SDN. BHD. |
| AS45960 | YTL COMMUNICATIONS SDN BHD |
| AS4788 | TM Net, Internet Service Provider |
| AS4818 | DiGi Telecommunications Sdn. Bhd. |
| AS9534 | Maxis Broadband Sdn Bhd |
| AS9930 | TIME DOTCOM BERHAD |
Table showing the AS numbers with the respective ISP names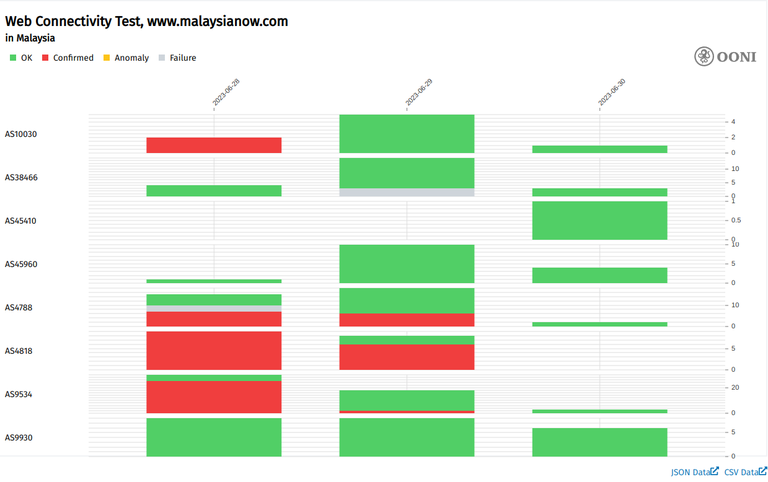 OONI web connectivity measurements for 'www.malaysianow.com' on 28-30 June 2023 (Click here to display more detailed chart)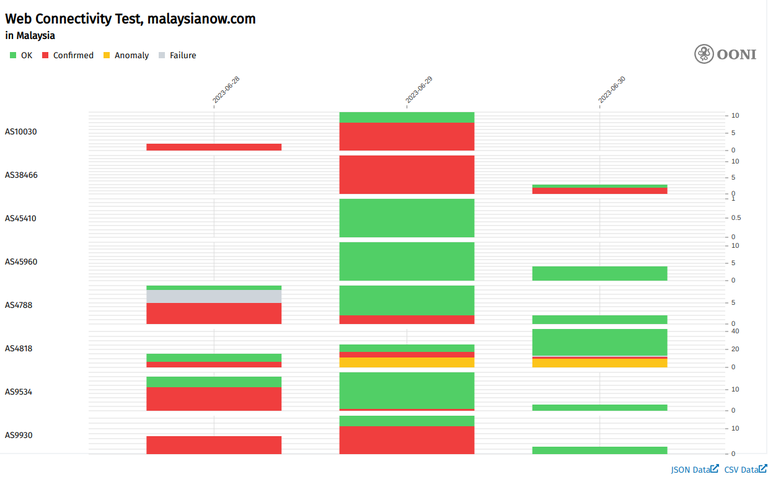 OONI web connectivity measurements for 'malaysianow.com' on 28-30 June 2023 (Click here to display more detailed chart)
On the second day of blocking, it was also shown that the ISPs have begun to unblock the website. U Mobile (AS38466) and Digi (AS4818) were still found blocking the website until 30 June and 4 July respectively. This also shows that lifting of blockings is also inconsistently done by ISPs. 
It is crucial that these censorship instances be tracked, not only through complaints from the users. OONI provides the platform for users to collect these data through their OONI Probe Mobile and Desktop App. When enough data is collected, it can be confirmed that the blocking was done from a specific time to another, as well as by a specific ISP. As OONI also tracks the 'blocking fingerprint' whereby these fingerprints confirm censorship by the government or the ISPs, the data is thus a more reliable evidence. 
When critical websites like news portals are blocked and then unblocked, some internet users may still continue to experience blocking due to delays or  misconfiguration. In these cases, technical data evidence is important to highlight blocking of websites to  ISPs and the Malaysian government to hold them accountable, rather than having a few complaints from the users through screenshots.
Recommendations
It is recommended that the Malaysian government through MCMC be more transparent in these cases of internet censorship. MCMC should actively publish block notices or block lists, as well as be transparent about the standard operating process (SOP) in making orders for blocking websites. This includes holding the ISPs accountable when implementing these orders, whether it is blocking or unblocking the websites.
For the internet users who are interested in contributing, you may do so by:


About iMAP
Internet Monitoring Action Project (iMAP) aims to establish regional and in-country networks that monitor network interference and restrictions to the freedom of expression online in 10 countries: Myanmar, Cambodia, Hong Kong, India, Indonesia, Malaysia, Philippines, Thailand, Vietnam and Timor Leste. Sinar Project is currently working with national digital rights partners in these 10 countries. The project is done via Open Observatory Network Interference (OONI) detection and reporting systems, involving the maintenance of test lists and measurements. 
More information available at: imap.sinarproject.org. Any enquiries and suggestions about this report can be directed to [email protected].