Internet Censorship Update
Blocking of WeeChooKeong.com website
27th July 2023, Sinar Project with test data measurements from Open Observervatory for Network Interference (OONI), confirmed that a few Malaysian Internet service providers were implementing what appears to be an MCMC mandated blocking of a website.
Following initial media reports on 25th July by, MalaysiaNow, of blocking of a website weechookeong.com, a website belonging to a former Malaysian Member of Parliament, Sinar Project started to run test measurements and analyze data to confirm reports.
As of 27th July, data on OONI (Open Observatory Network Interference) indicates that blocking occurred on networks run by 4 Internet Service Providers (ISPs) which redirected users to a server maintained by MCMC. This would have resulted in users facing difficulties in accessing the website. The four ISPs are:

Maxis (AS9534)
TM (AS4788)
U Mobile (AS38466) 
YTL (AS45960)
At the time of writing, the data indicates that the website was still accessible for users of the following Internet Service Providers:

Celcom (AS10030)
TIME (AS9930)
Digi (AS4818)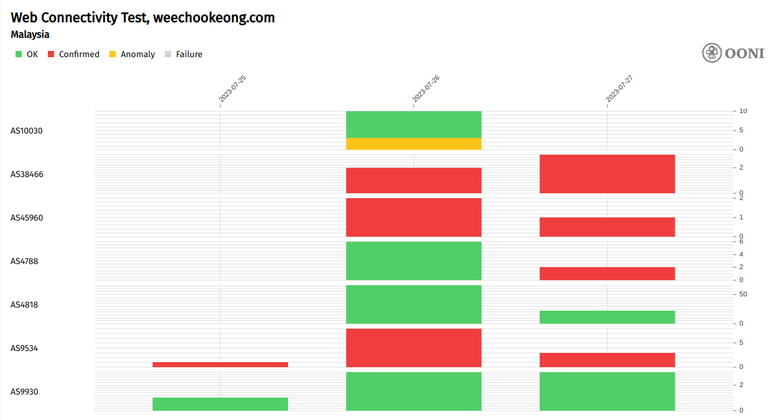 Source: OONI Data 
The data on OONI was collected through the OONI Probe App by Sinar Project and various volunteers. A confirmed blocking on OONI shows that there has been DNS blocking on the website whereby the DNS had been tampered to redirect to MCMC's ip address: 175.139.142.25.