The State of Internet Censorship 2022
The State of Internet Censorship reports covering OONI data in the first half of 2022 and 8 countries: Cambodia, Hong Kong, Indonesia, Malaysia, Myanmar, Philippines, Thailand and Vietnam.

Introduction
As part of the iMAP project which promotes and defend Internet freedoms in South and Southeast Asia, these reports aim to report on the monitoring of network interference and restrictions to the freedom of expression online in the region and in each of the countries
The full report contain a general overview of the 8 countries, as well as country reports. Each of the country report contains background information on political landscape, legal environment and reported cases of internet censorship, as well as network landscape and internet penetration and findings of internet censorship based on OONI data.
Key Findings in the Region
There are no countries in the Southeast Asian region that have gained the status of achieving internet freedom considered as "free". Governments in the region are increasingly imposing Internet regulations in a manner that restricts the flow of information across national borders and limits internet freedom.
Measurements collected were the highest in Thailand with more than 2.7 million measurements, whereas the lowest was in Cambodia with 238,948 measurements.
In terms of categories, highest measurements collected were from News and Media and Human Rights Issues websites. In these two categories, the websites were inaccessible (anomaly and confirmed blocked) 4% of the time.
Pornography sites is the highest category of websites with confirmed blockings, with Indonesia has the highest number of pornography websites blocked among eight countries.
Similarly, Pornography has the highest rate of anomaly and confirmed blocked measurements on OONI, followed by Provocative Attire and Gambling websites.
Indonesia has the highest number of websites found to be blocked. This is potentially aided by the open publication of a list of blocked websites by the authorities that mandates ISPs to follow suit.
There are only four major Instant Messaging Apps being tested on OONI: Facebook Messenger, Signal, Telegram and Whataspp. Only Myanmar has recorded high anomalies for Facebook Messenger throughout the reporting period.
There are four types of circumvention tools measured on OONI: Psiphon, Tor, Tor Snowflake and Riseup VPN. However, measurements on RiseupVPN have been removed from this study due to their servers being unreachable and therefore have shown false positives. Only Vietnam has shown signs of blocking of Tor from February to June 2022 as well as blocking of Psiphon in the Philippines. No signs of blockings have been detected on these 3 circumvention tools in other countries, although there had been blockings on circumvention tools via website testing.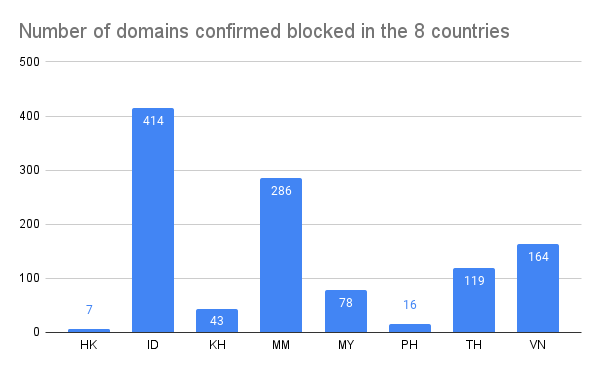 Download the reports here:
Data is also available for download here.
A comprehensive glossary related to OONI can be accessed here.
The reports are available in local or national language for the following:
Although India is part of our iMAP project, the country report for India will only be published in the next round of reporting. However, our partner has published a report on internet censorship using data from CensorWatch.
Interactive Dashboard
As a supplement in reading the reports, you may access the interactive dashboard of the data here. All datasets to produce the charts are also downloadable through the dashboard menu.
Contribute to the study
There are various ways one may contribute to the OONI measurements: